Developing a culture for Whyalla Secondary College and adopting a whole school approach to values education benefits our students for their lifespan of their schooling years and can last into employment and beyond. These core values must share a collective consciousness of the school and must be brought to life through the school interactions and personal beliefs of the staff, students and Whyalla community. They must ensure a common understanding of what we are striving for and help to communicate 'our story' – its mission, standards and desired outcomes.
Our objective is to create lifelong learners who can problem solve, think critically and creatively, and    conduct themselves ethically, in a continuously evolving global environment.
Inclusion
Inclusive education values diversity and the unique contributions each student brings to the classroom. In a truly inclusive setting, every child feels safe and has a sense of belonging.
What does this mean to WSC?
It is vital that we develop and apply a range of ideas that improves the way we do things in our school in support of improved student outcomes. This represents our school's focus on ATRIUM philosophy; the notion that the school and the Whyalla community is inclusive of all students and caters to their learning needs to ensure post-school success.
Innovation
Innovation is fundamental to encouraging teachers and students to explore, research and use all the too ls to uncover something new. It involves a different way of looking at problems and solving them. The thinking process that goes into it will help students develop their creativity and their problem-solving skills.
What does this mean to WSC?
Staying relevant by challenging the status quo to turn ideas into solutions that add value to the WSC community for the improvement of student learning. Innovation as one of our school values represents the emphasis on dig it al technologies and its link to driving improvement in student outcomes.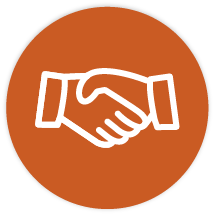 Integrity
Students who stand up for principles in which they believe have high degrees of self-efficacy. Students who developed integrity and a desire to become civically engaged allow young people to believe in themselves in their chosen future pathway.
What does this mean to WSC?
Staff and students operate with integrity at all times at our school, following their moral and ethical convictions and doing the right thing in all circumstances.